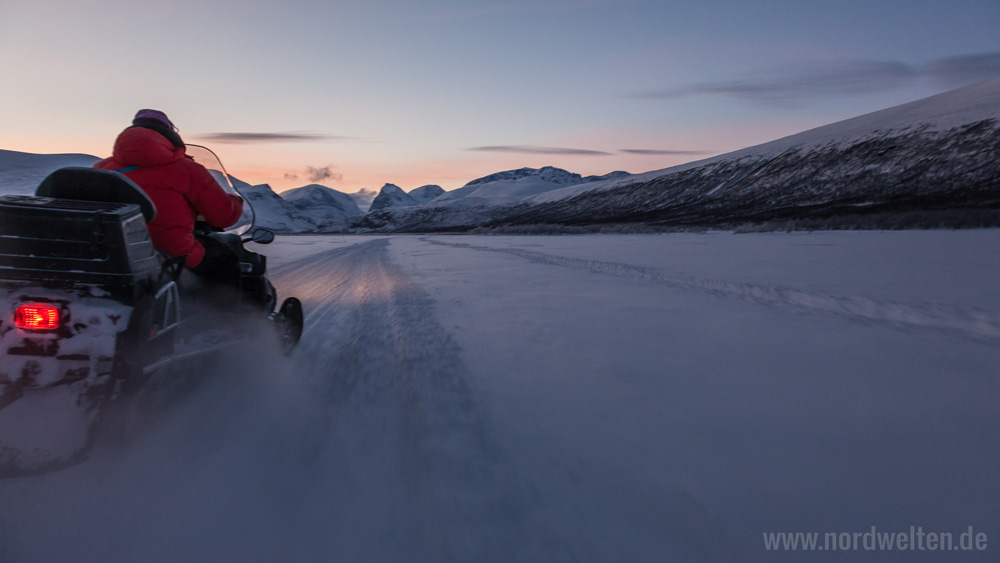 The snowmobile is essential for us who live here and it can be of great help for you who are heading up the mountains.
The snowmobile transfers you book with us Nikkaluokta Alltransport are also a security factor for you when heading into the mountains.
Make your resrvation by email , call us or make a preliminary booking online: "Preliminary booking of transportation"
We will take you there – just contact us.
---
Time table Nikkaluokta – Kebnekaise ( 1/3- 26/4 )
Daily departures during winter season. Please get updated information from the reception at Nikkaluokta or Kebnekaise!
Timetable
Nikkaluokta – Kebnekaise Mountain station
09.00   12.30   17.00
Kebnekaise Mountain station – Nikkaluokta
10.00   14.00   18.00
Minimum 2 persons
Price: 375 SEK/person one way with luggage.
0 – 7 years of age for free
8 – 15 years of age 185 SEK/person with luggage
Duration 50 minutes
Transport of only luggage or similar 130 SEK/piece when transport is on the way
The transport departures and arrivals are at the main entrances in Kebnekaise and in Nikkaluokta
Reservate a seat by email, give us a call or do a preliminary booking online: "Preliminary booking of transportation" Ticket is paid at receptiondesk.
Please note! Tours can be cancelled due to extremely bad weather.
---
Kebnekaise – a snowmobile adventure
Join a one day snowmobile tour to the Kebnekaise Mountain Station at the foot of the Kebnekaise Massif
You will be warm and comfortable under blankets and can borrow a thermo-overall for this open sled ride.
After about 1 hour in open terrain we reach the station. This 100 years old station is a well visited alpine center with an atmosphere of its own. Enjoy something in the cafeteria or a meal in the restaurant before we head back to Nikkaluokta.
Price. 1000 SEK/person
Minimum: 2 persons
You can make a reservation give us a call or do a preliminary booking online: "Preliminary booking of transportation"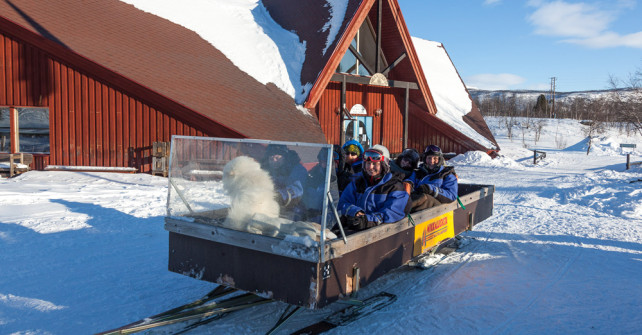 ---
Snowmobile transport to mountain cabins
Nikkaluokta Alltransport can take people and goods to the STFcabins in the area.
You can book transport to "Lisas stuga" and to the STF-cabins (open to hikers) in Vistas, Singi, Sälka, Nallu, Tarfala and Kaitum. We can get you there but also take you here to Nikkaluokta.
Luggage and skis will be no problem in our large sleds. You will be sitting on a cushion and have a warm blanket around you. These tours have to be booked in advance and we always try to coordinate them with others that need our service.
More information is available at the reception, by e-mail and telephone.                    Tours may be cancelled or change departuretime due to extremely bad weather.
You can give us a call or do a preliminary booking online: "Preliminary booking of transportation"